Purchasing a new Hyundai vehicle is an exciting process. However, it can also be time-consuming. If you want to save time when buying the vehicle of your dreams, consider Structure My Deal at Island Hyundai!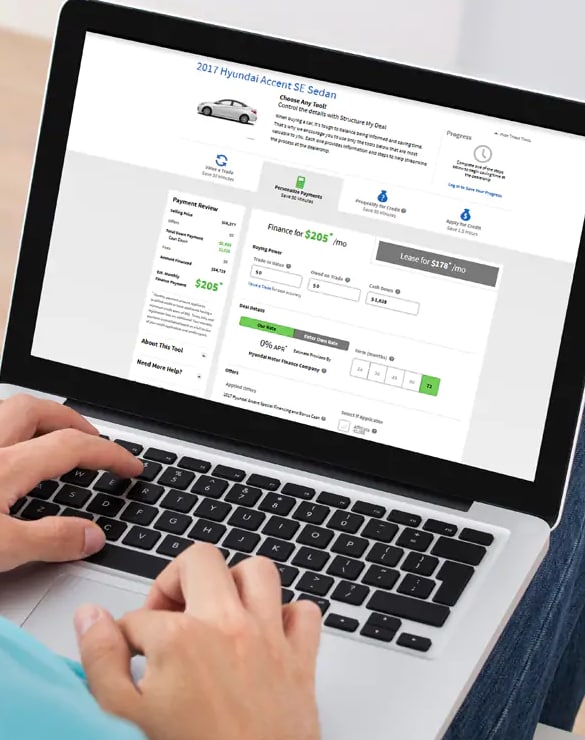 ?
Structure My Deal is a tool that allows you to complete most of the steps of the car buying process from the comfort of your own personal computer or mobile phone. Enjoy incredible convenience when shopping for the Hyundai of your dreams. Not only can you work through the car buying process from your couch, but you can also save valuable time when purchasing online.
Structure My Deal allows customers to complete several steps of the car buying process through the online tool. You can value a trade-in, choose a personalized payment plan, and apply for financing all online in an instant. No more waiting in line or spending time commuting to the dealership when you can tackle these tasks on your watch.
The Structure My Deal tool is easy to use. All you need to do is fill out your information and make the necessary selections online. Once you've saved that information through the secure platform, you can move on through the car buying process with ease.
Navigate the Island Hyundai website to check out the Structure My Deal tool. You can see how much your current vehicle is worth in a trade-in. You can also design a payment plan that is most ideal for your budget. You can even pre-qualify for credit to help you pay for the vehicle you deserve.
Applying for financing is easy as a few simple clicks when using the Structure My Deal tool at Island Hyundai. To learn more about the vehicles we have available, feel free to give Island Hyundai a call at 844-672-6134 today!