You've decided you want a new Hyundai vehicle, but now you have to decide between buying or leasing. Both options have their perks, but which is best for your specific needs? Learn more about buying or leasing a Hyundai vehicle by reading on.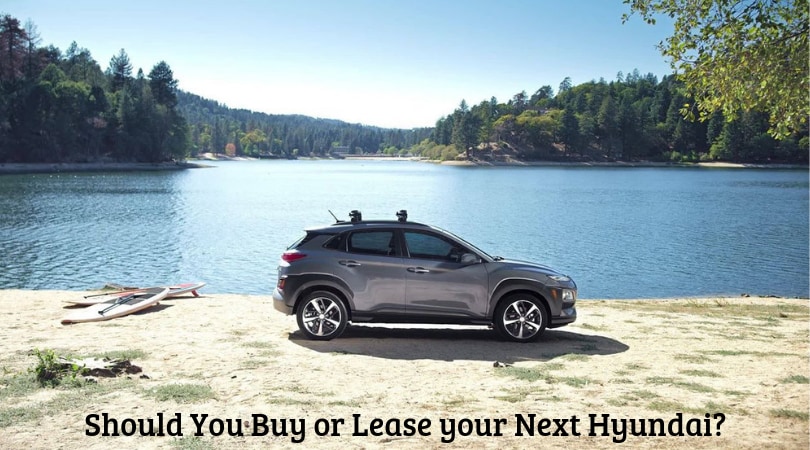 Leasing a Hyundai is an excellent option for car shoppers interested in the latest and greatest that Hyundai has to offer. With a lease, you have the option of getting behind the wheel of a brand new Hyundai for affordable monthly payments. Instead of buying the vehicle, a lease lets you drive the car for an extended amount of time. Leases require less sales tax, are hassle-free, and require minimal repair or maintenance costs because the car is under warranty. A downside to leasing is you don't own the vehicle, so you have to return it to the dealership when your lease agreement ends. Another downside is there is a mileage cap on a leased vehicle, so you can't drive the car over the mileage cap without having to pay extra fees.
When you buy a Hyundai, you can drive the vehicle as far as you want without having to pay any extra fees. Also, you own the vehicle after you've paid it off, so you can make as many customizations as you want. Feel free to paint and personalize your Hyundai as you see fit when you buy one at Island Hyundai. Another perk of buying a car is the option of trading it in if you one day decide to get a new vehicle. The value of your trade-in can make getting behind the wheel of a new vehicle more affordable. Downsides to buying include down payments and higher maintenance costs.
To buy or lease your next Hyundai, make your way to Island Hyundai! Find our new and pre-owned Hyundai dealership at 1590 Hylan Boulevard in Staten Island.
Hyundai Dealership near Jersey City | Buy or Lease Next Hyundai